If you are a coach who has an active coaching subscription with Final Surge, you have the option to launch a Coach Page and sell training plans on the Final Surge Training Plan Marketplace. This allows athletes to search the marketplace and find the perfect plan for their next goal or event, giving you a way to make additional revenue and help market your coaching business. We have found that many athletes who purchase a plan from a coach in our platform will later hire that coach for one-to-one coaching.

To get started, you must log into the Beta platform and click on the main Training Plans link in the left-hand navigation. Also, please make sure you are in Coach Mode (you will see the word "Coach" under your profile image). If you are not in Coach Mode, click on your profile image and select "View as Coach".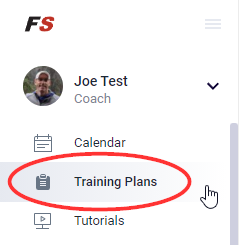 If you have not already created training plans in the Beta platform that you would like to sell, you must do that first. View this tutorial on how to create training plans in the platform.

If you have already created training plans in our Classic platform but have not yet upgraded those plans to the new Beta format, you can do so at this time. Under the "All Plans" tab, every plan that was created in the Classic platform and has not yet been upgraded will have a "Upgrade" button to the right. Simply click this button to upgrade the plan to our new format: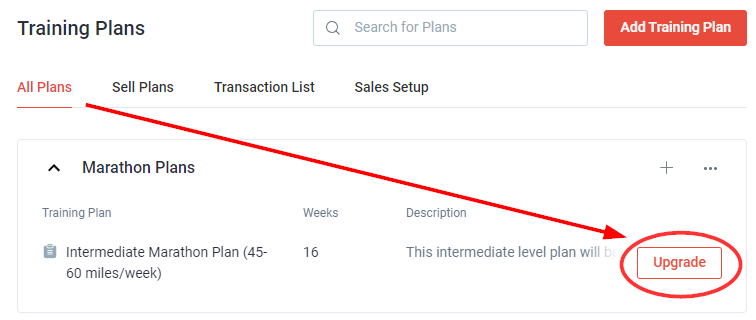 Once upgraded, you can still use the plan as normal and apply it to your athlete calendars. However, you will no longer be able to edit the plan in the Classic platform. You will always need to use the Beta platform when making changes to this plan in the future.

The new format allows you to add structured workouts to your plans as well as attach Workout Videos & Attachments to the workouts in your plans.

The next step is to click on the Sales Setup tab at the top of the Training Plans page. This will walk you through a series of steps that you must complete in order to enable plan sales.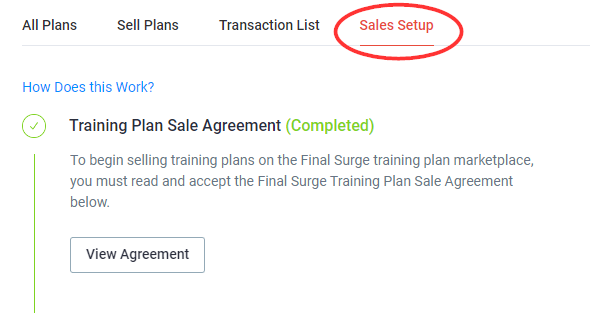 You can click on the "How Does this Work?" link at the top of this page to get more information on this feature before you begin the setup process.

Below is a summary of each step on the Sales Setup page

1. Training Plan Sales Agreement – you must agree to our sales agreement which outlines the 70/30 revenue split as well as some additional terms. When a plan is sold, coaches keep 70% of the sale price of the plan and Final Surge will keep 30%. This 30% covers the credit card processing fees, ongoing customer support for the user who purchased the plan, as well as the continued feature development and marketing of the training log platform and training plan marketplace.

2. Location & Tax Information – we need to collect your location and individual or business information for tax reporting purposes. If you are located in the United States and sell a certain amount of plans per year, Final Surge will issue you end-of-year tax documents.

3. Setup & Connect Stripe Express – Final Surge will now pay coaches for plan sales through Stripe Express. By clicking on the "Setup Stripe Express" button, you will be taken to Stripe's secure website where you can set up an Express account. This allows Final Surge to automatically transfer your sales proceeds through Stripe. Final Surge will hold the initial sale monies in our Stripe account for 14 days to ensure no refunds or transaction disputes are requested by the customer, and then we will automatically transfer that money to your connected Stripe Express account. Once that money transfers to your Express account, it will then take 1-2 business days to automatically pay out to your connected financial account.

4. Setup a Coach Page – To enable plan sales on our marketplace, you must create a Coach Page. This page is a unique URL assigned to you where athletes can go to find more information about your coaching services as well as view all of your plans that are for sale. You can click the button in this section to access your Coach Page. This page can also be accessed at any time by clicking on your profile image at the top of the main navigation and selecting the "Coach Page" option. You can setup your unique URL and launch a Coach Page on our site even if you do not want to sell training plans.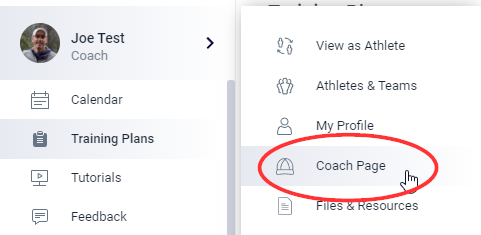 Setting up a Coach Page URL is a great way to market yourself on social media, on your own website, and to use at the bottom of your emails in your signature. This gives athletes a direct link to find your training plans or learn more about your coaching services.

5. Enable Training Plan Sales – once you have completed the above steps, the only other requirement is to turn on plan sales. This section allows you to toggle plan sales on and off at any time that you want. This toggle must be turned on in order for your plans to show up on your coach page and be found in our marketplace.
Once you have completed steps 1-4 and at least saved a version of your Coach Page (it doesn't have to be turned on), all plans that you have created in the Beta platform will now show up on the Sell Plans tab:



Click on this tab to select which plans you would like to sell on the marketplace. To enable a plan for sale, you must toggle the Status to the "on" position to the far right of each plan. Before doing so, click on the plan to categorize it and add additional information that will help athletes find your plan when they search.

By clicking on a plan, a modal window will appear. This will allow you to select the sport, distance, skill level and set a plan price. The minimum plan price is $9.95 (USD).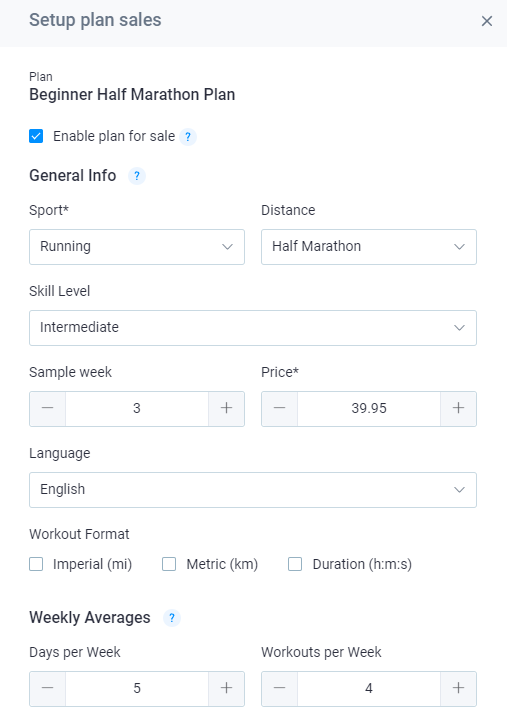 In addition, you can add other variables such as choose a sample week to show on the plan details page, entering weekly averages (how many hours or workouts per week the plan contains), and selecting if the plan has structured workouts. The more information you choose to add regarding your plan, the better chance it has of showing up in search results on the marketplace when athletes are filtering for specifics regarding the type of plan they are looking for.

Any changes you make to training plans or your Coach Page could take up to 5 minutes to display on our marketplace pages. Once you have enabled at least one plan for sale in this section and have both your Coach Page and Plan Sales enabled on the Sales Setup tab, your plans will then appear in the marketplace to be found by athletes around the world.