This article details the steps to upload a .FIT or .TCX file to Final Surge.
Uploading a New Workout to your Calendar
Navigate to the day that you did the workout on, hover over it, and then click on the plus sign at the top of the day. A drop-down menu will appear. Click the "Upload Data" option from this menu.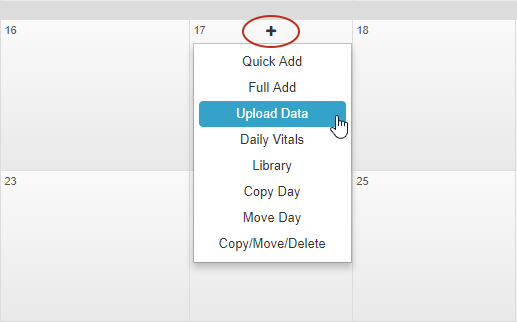 Clicking on "Upload Data" will open up the following modal window: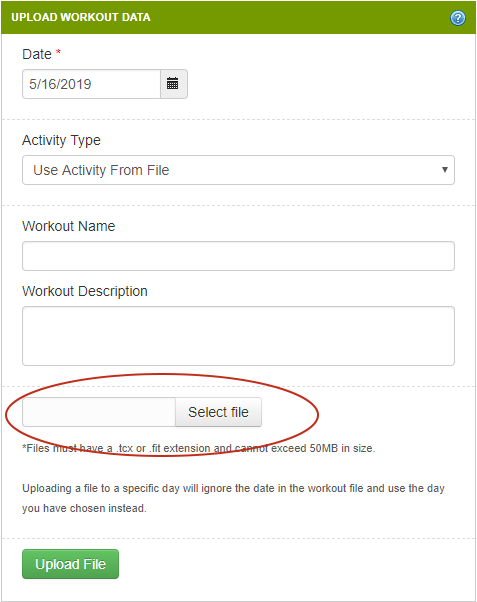 Choose the "Select file" button to select the FIT or TCX that you would like to upload. If you want to override the type of workout that is used for the file, select a different Activity Type from the drop-down menu under the date. This will ignore the file type that is recorded in the file and will change the workout to the type you select (so if your watch recorded it as a cross training workout but it was really a run, you can make this change here). Otherwise, leave "Use Activity From File" selected and the type of workout will be determined from the file itself. If you would like to add a name or description to this workout, you can do so from this window before clicking "Upload File".
Once the file has been uploaded, you will be redirected to the workout details page to view the results of this workout.
Uploading a Workout to an Existing Planned Workout on your Calendar (or overwriting completed workout data)
If you have a planned workout on your calendar that you would like to upload your results directly to, or if you have a completed workout that you want to overwrite the results of, you can do this by clicking on the workout directly on the calendar.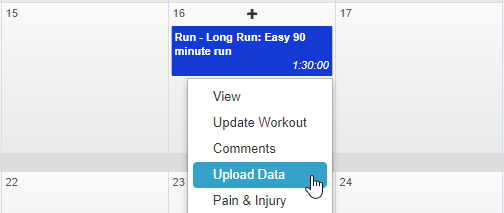 A menu will appear when you click on the workout. Select "Upload Data" from this menu. Once you have clicked this option, a modal window will appear with the date and the title of the existing workout at the top of it: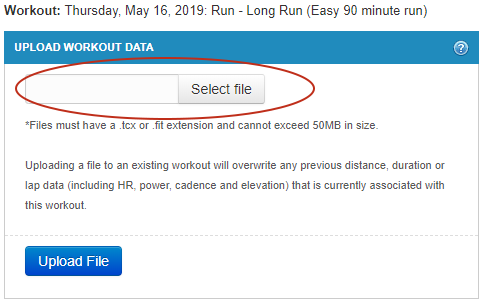 Click on "Select file" to choose the FIT or TCX file that you would like to upload to this existing workout on your calendar. Once you have selected the file, click the blue "Upload File" button. The file will then be uploaded and you will be redirected to the workout details page of the newly uploaded workout.